TRAMESON
TRAMESON has been providing custom built products to the industrial market place for more than 60 years. Our current CEO Francisco Hernández Berkowitz is a third generation metal fabricator coming from a family with values and workmanship. He is a proven leader in the steel fabrication industry.

  TRAMESON has successfully completed projects for assembly plants, fishing industry, construction industry, federal and state government, and many more.

Every day we strive to bring more value to our work by offering our workers the opportunity to better themselves by keeping them updated with the advances in the industry trough workshops and certification programs.
Our Values
Misión
Brindar soluciones de transformación de materiales metálicos según la necesidades de las diversas industrias de la región.
Visión
Buscar el crecimiento geográfico y de mercados basado en la calidad de nuestros servicios y productos pero sin dejar de lado el desarrollo integral de cada uno del personal que trabajamos en TRAMESON S.A. DE C.V.
Sobre nuestro Servicios
Algunos de nuestros servicios son los productos metal mecánicamente transformados como piezas maquinadas, estructuras, tanques, tolvas o rodillos, por mencionar algunos; la comercialización de componentes mecánicos como bombas, motores, pistones, así como materiales ferrosos.
  Reparación y mantenimiento general de componentes de las diferentes industrias a las cuales prestamos servicio.
Beneficios y Calidad
Gracias la RESPONSABILIDAD y COMPROMISO con el buen desempeño de nuestros productos y servicios hemos logrado la confianza de nuestros clientes que día a día nos permiten formar parte de sus proyectos mas importantes.

TRAMESON
TRAMESON has been specializing in the metal fabrication industry over the last 60 years. Our success is due to our commitment to quality work and customer satisfaction.
Work Commitment
Our commitment at TRAMESON is simple: to provide every single one of our customers the same professional treatment no matter how big or small. We are confident that the final result will be on time and of the highest quality.

Servicios
Doblado de placa, fabricación de boyas marítimas, fabricación de difusores para quemadores de calderas, fabricación de ductos y muchos más.
COMMITMENT
Committed to our customers with high quality products and a remarkable service.
RELIABILITY
Develop solid relations with our reliable suppliers.
COMPLIANCE
Comply with local safety rules, laws and regulations, and certify our collaborators to customer needs.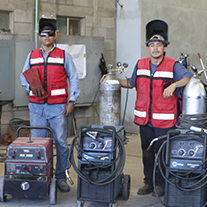 RESPECT
We provide a fair and a great work environment among our staff members by treating each other with respect and promoting a continual self-improvement atmosphere.